Lesson Format

STUDENTS 5 AND UP: Lessons are offered in my home studio or online and vary between 30-60 minutes in length. As often as possible, I pair students of similar age and level together in an hour and split the time 20/20/20 in order to facilitate ensemble work and studying theory, composition, scales and basics in a much more engaging way (20 minutes private instruction for individual repertoire, 20 minutes buddy instruction for technical skills, theory, duets and rhythm work, and 20 minutes lab/off bench time which delves deeper into theory, ear training, sight reading, composition, listening/responding, etc.).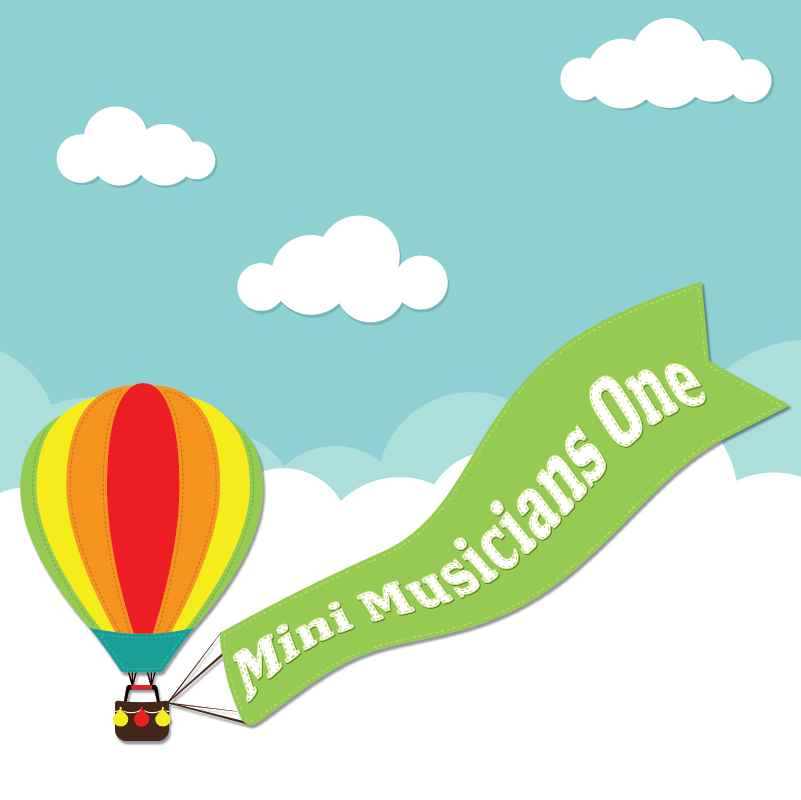 STUDENTS 3-5 (Mini Musicians Program): The Mini Musicians Program group class is designed for students not yet in school, ages 3-5 and is an excellent introduction to musical concepts to prepare them for regular lessons when they are ready. Concepts covered in the 30-45 minute weekly lessons are Aural skills, Technique, Rhythm and Theory. Additional topics covered include Improvisation Explorations, Star Songs, and Listening in Color.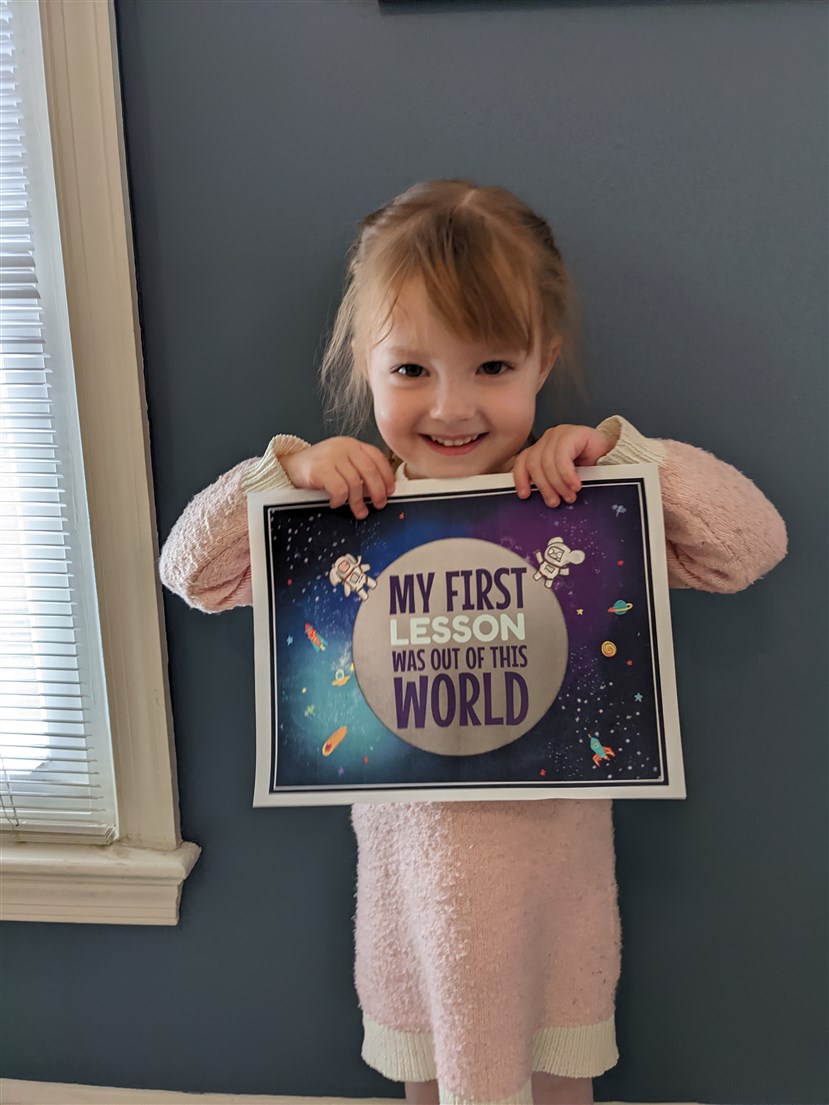 Tuition
Tuition is all-inclusive and covers all books, subscriptions, my time at Festival and Guild, recitals, 36 lessons, and occasional additional events such as jam sessions, extra ensemble rehearsals, and performance parties. Only Festival and Guild fees (optional) will be billed separately.
Tuition will not be adjusted for skipped lessons. See the "What happens if I have to miss a lesson?" section below for options if you must be absent.

What happens if I have to miss a lesson?
In the event you must miss a lesson, you have a few options for making it up:
You may contact another studio parent and ask to swap lesson times (please let me know, too, so I'm prepared in the event of partner overlap lessons). Contact information can be found in the student portal.

You may record yourself/student playing your assigned pieces and either text/email me or upload them to the student portal for my review and feedback. If you request it before your lesson, I will prepare a customized video lesson during the time I would normally spend with you and send it to you to watch at your convenience.

Access a pre-recorded video lesson on a topic of interest.
Parental Responsibilities
Parents are always welcome to attend the lesson along with the student, though (except in the case of very young students) it is not required. You are also welcome to record any parts of the lesson you want in order to ensure understanding at home.
Please help your student set up a daily practice routine. They need your help with this. Trust me. If you're not sure how to do this without being a nag, ask me for ideas - I have lots!
Your child most needs your encouragement. Leave the instruction and criticism to me (I won't criticize, either, but please let me be the one to give correctional feedback. That's my job. Feel free to bring any concerns you have to me!) Your job is to provide the opportunity, the structure, and the equipment (see below) and the positive reinforcement. Together we will help your child gain a mastery of the piano!
Set up the piano area as described below (few distractions, arms parallel to the floor or slightly angled down to the piano, feet FLAT on the floor or on a stool so the child can rest their weight on their feet)
Do we need an instrument at home on which to practice and if so, how do we set it up?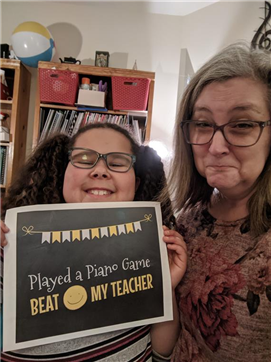 YES! Why do I ask this question? Because I've actually had parents send their students to lessons without having an instrument at home! Learning the piano requires regular use - think of it like learning to read. Elementary students are required to read 15-20 minutes every night in order to gain mastery of the mechanics of language. The same is true for the language of music and acquiring dexterity, technique, muscle memory, and fluidity in playing the piano.
Preferably you will have a regular acoustic piano kept in well-tuned condition. An acoustic piano such as this will offer students the best ability to develop finger strength, technique and expression. Here's an infographic and article detailing differences between acoustic and digital pianos. If an acoustic piano is simply not possible, feel free to ask me about digital piano options. Currently the cheapest model I can find that will have weighted keys and touch sensitivity is the Casio CDP-S100 available at Guitar Center (August 2022). In addition to the keyboard, you will need a stand for it, a bench, and a sustain pedal.
If a child is small and feet do not touch the floor, they will need something on which to rest their feet solidly (so they can stand/put their weight on their feet).

Here's one possibility, a pedal extender

.

the piano/keyboard should be set up in a quiet, well-lit place where parents have easy access to encourage students while they play, but where students will have the ability to concentrate.

acoustic pianos should be tuned regularly (twice a year is best)

a pianist's arms should be parallel to the floor (not reaching up to the keyboard, and if above, only SLIGHTLY above and coming down to the keys!!). If this is not naturally occurring, you may adjust with an

adjustable piano bench

or an

adjustable keyboard stand.


Ready to make music?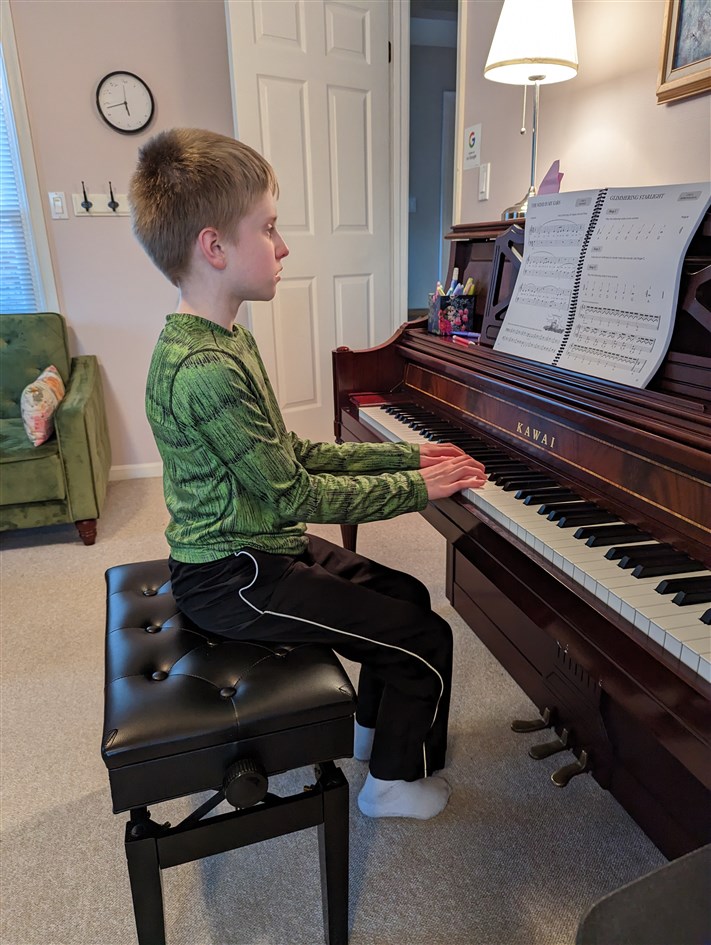 Click here!